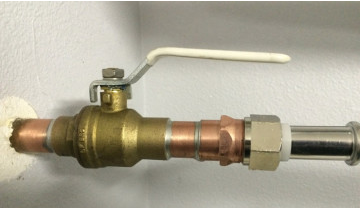 – Paso Robles Emergency Plumbers Quality 1st Plumbing & Drains have recently announced the launch of a new website designed by Access Publishing in Paso Robles. Access Publishing – a local marketing solution and publication company which publishes works such as Paso Robles Daily News, SLO County Visitor's Guide, A-Town Daily News, and more – has recently given the website for Quality 1st a complete makeover. Graphic Design experts have formatted the new website with a sleek design and smooth navigation.
The new website designed by Access Publishing's graphic design team now features a "Contact Us" button on the very front page which redirects to a page where the company's phone number and location can be found. On the home page, a brief description of the company and list of services offered can be found.
Tabs found at the top redirect customers to separate pages on the Paso Robles Emergency Plumber's website, some of which include an "About Us" page, a photo gallery which shows work that has been done by Quality 1st, and a testimonials page where potential customers can read testimonials from other satisfied customers.
"I'm very satisfied with the work done by the graphic designers over at Access," says owner Sky Sepulveda, "with my newly designed website I hope to see a surge of customers coming to Quality 1st for the best emergency plumbing in the county."
Sepulveda has lived on the Central Coast for 30 years and has been working in the plumbing industry for 12, "I really love what I do," he says, "I love going to work each day and helping people. I believe in the plumbers' creed which is to protect the health of the nation." By methodically simplifying the complex troubleshooting process of most plumbing systems, Sky has been able to keep Quality 1st's prices low and efficiency high.
Emergency Plumber Paso Robles
Quality 1st Plumbing & Drains is a locally owned and operated Emergency Plumbing company based in Paso Robles. With over 12 years of experience in the plumbing industry, owner Sky Sepulveda has been putting forth his utmost effort to build lasting relationships with clients all throughout San Luis Obispo County, some of which include well-known local businesses and property management companies. They even come equipped with cleaning supplies so that there's no mess left after a job well done.
Quality 1st Plumbing And Drains
1006 Par Ave
Paso Robles, CA 93447
(805) 835-7460
Press release by San Luis Obispo SEO company Access Publishing, 806 9th Street, #2D, Paso Robles, CA 93446 (805) 226-9890.